Other Cinema in San Francisco
presents a screening of Pink Narcissus, synched to the live recording of the Tuxedomoon performance at Paris L'Etrange Festival, featuring a performance by Bruce Geduldig and Winston Tong.
"
Welcome to our website for our ongoing series of experimental cinema in San Francisco. We show films every Saturday at ATA Gallery, 992 Valencia (@ 21st). Showtime 8:30pm, admission*
"
http://www.othercinema.com/calendar/index.html
OPTRONICA TWO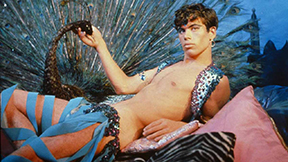 SAT. 10/3: TUXDEDOMOON'S PINK NARCISSUS + GEDULDIG/TONG/RUDIS +

After 7 years of incremental progress in the late 60s, the obsessively elaborated and eventually marginalized Kodachromefantasy Pink Narcissus was taken away from auteur James Bidgood by his impatient backers, who slapped on an off-the-shelf classical soundtrack. A half-century later, ex-Mission District darlings Tuxedomooncraft a dreamy hour-long alternative, performed live in Paris and also published on disc. Tonight TM's Bruce Geduldig syncs it up, as well as joining in with Winston Tong andLx Rudis for the live debut of CELL LIFE: Urn Your Living. ALSO: Wobbly and Jason Willett in Vicki Bennett's CCCitations, Soda_Jerk/Sun Ra's Jungle Are Forever,Semiconductor's Black Rain, and our definitively deft DJ Cyrus Tabar! *$9